Lukas Britschgi
Back on the ice

After two months of ice practice break due to the Corona crisis, I was finally able to travel to Oberstdorf again and go back on the ice.
In addition to the ice training, I also started the sportmilitary in April, which lasts until August.
With seven weeks of trainingcamps during summer and three more weeks of intensive training, I have prepared myself for the season.
The first competition took place at the end of September, the Nebelhorn Trophy in Oberstdorf.
For the first time I landed a quad jump in a competition!
With a new personal best of over 210 points, I was able to place myself in 8th place despite three falls and I only missed the podium by eight points.
In both programs I got the points I needed to qualify for the World Championships.
There is still a lot of potential in both programs and a few more points to be made.
Next Competitions:
Montalin Cup (Chur), 24.-25. Oct.
Icelab Int. Cup (Bergamo), 06.-08. Nov.
Autumn Trophy (Dortmund), 26.-29. Nov.
Schweizermeisterschaften (Luzern), 12.-13. Dec.
For more than 15 years I'm skating on the ice. Starting at the age of 7 in a children's group course, followed by the first training sessions with my coach up to my current 20 training hours per week on and off the ice. Today I am Swiss champion, member of the Swiss elite national team and representative of Switzerland at international championships.


Goals
Season 2020/21
National Champion
European Championships
World Championships
Career goal
Olympic Winter Games 2022 Beijing


Results
Participants in the World Championships,
Top-20 of Europe,
Swiss champion 2020,
7 more medals at the Swiss Championships and
5 medals in international competitions
Saison 2019/20

Worldchampionships
Due to the corona crisis, the Worldchampionships in Montreal was canceled. So my season ended earlier than planned.
Seasons Best in Den Hague
Four weeks after the European Championship, I traveled to The Hague for my next competition.
A good field of participants was waiting for me, including Shoma Uno, silver medalist at the Olympic Games in Pyeongchang and 19 other international competitors.
In the short program I showed a strong program and was able to place on the 6th intermediate rank despite a fall.
In the free skate I fought my way up to 4th place with another good program and a seasons best.
With 201.98 points I reached the 200 point mark again.
European Championships
At the European Championships 2020 in January I successfully qualified for the final with my short program and achieved my minimum goal with the 22nd intermediate rank. In the free skate I fought my way up to 19th place and ended as one of the top 20 in Europe.
Swiss Championships
At the beginning of December I again defended the Swiss championship title with 20 points.
Ranking Points
In November I started in the ISU Challenger series in Warsaw.
With a good short program, I finished 8th among 25 international competitors. Unfortunately I was not able to successfully show all my technical difficulties in the free program, but I still fought my way up two places and classified myself in good 6th place. So I secured further points for the world rankings.
6th place in Riga
A week earlier I flew to another competition in Riga. With a good short program, I placed on the 4th intermediate rank and was in good shape for the free program. Unfortunately the free skate did not go as expected and I had to accept some technical mistakes. It was enough for me to finish 6th, but I was only able to partially achieve my goals for this competition.
Season Start with bronze medal
Due to an ankle injury and a subsequent 6-week break from training, I clearly had a training deficit at the start of the season. Nevertheless, I was in relatively good shape and started the first international competition in Zagreb at the end of October. I won the bronze medal right at the beginning of the season.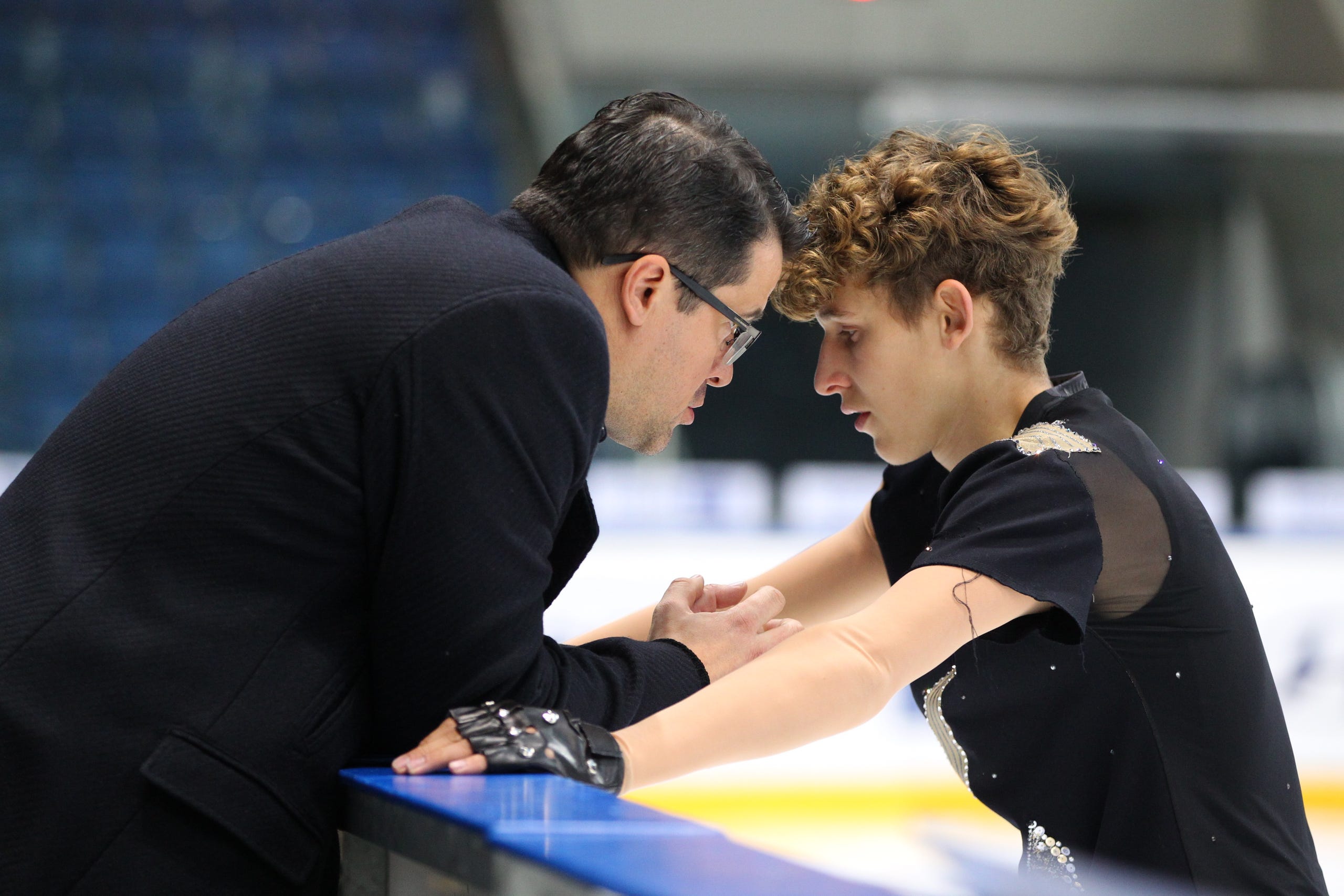 my team
Coach: Michael Huth and Alexei Pospelov
Choreographers: Rostislav Sinicyn and Michael Huth
Physio and Off-Ice Coach: Stephan Schmocker and Seppi Neuhauser
and of course my family, without all this would not be possible.
Media
SH Nachrichten, 24. Januar 2020
Britschgi zeigt soliden Auftritt an der Eiskunstlauf-EM
Saisonbestleistung für den Schaffhauser Eiskunstläufer Lukas Britschgi: In Graz konnte der 21-jährige bei der Europameisterschaft um 12 Plätze verbessern.