Lukas Britschgi
Season 22/23
Next Competitions:
17.-20.11 Warsaw Cup
28.-04.12 Budapest
17.-18.12 Swiss Nationals
Season 22/23
Budapest Trophy 2nd place
Finlandia Trophy 5th place
Grand Prix Skate Canada 6th
Grand Prix de France 7th
For more than 16 years I'm skating on the ice. Starting at the age of 7 in a children's group course, followed by the first training sessions with my coach up to my current 20 training hours per week on and off the ice. Today I am Swiss champion, member of the Swiss elite national team and representative of Switzerland at international championships.


Goals
Season 2022/23
World Championships Top15
European Championships Top10
Swiss National Champion

Winter Olympic Games 2026


Results
23 by the Winter Olympic Games 2022 in Beijing
15 at the World Championships
Top 20 European Championships
National Champion 2020
9 more medals at the Swiss Championships and
7 medals at international competitions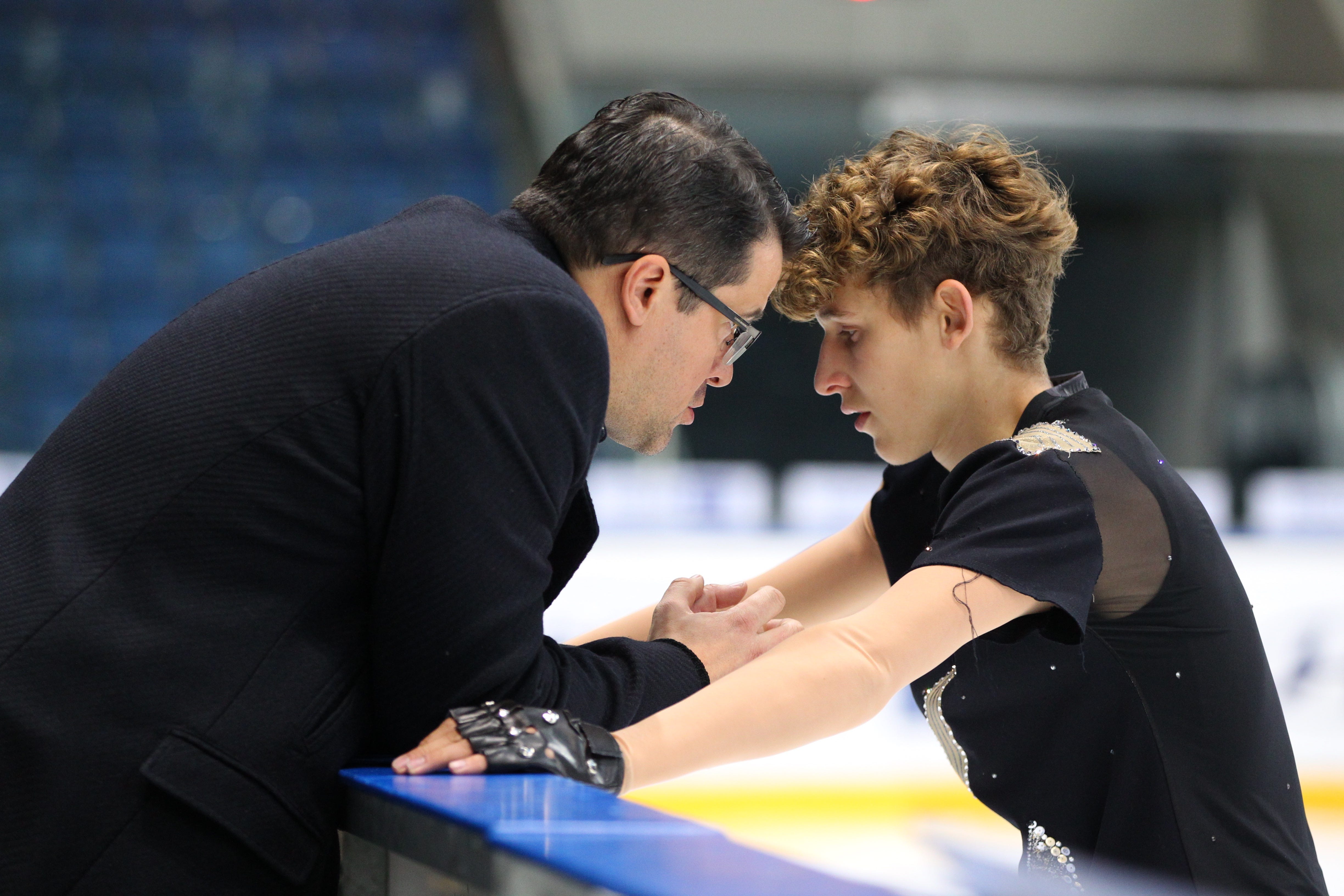 my team
Coach: Michael Huth, Robert Dierking and Alexei Pospelov
Choreographers: Andrea Vaturi, Adam Solya and Michael Huth
Physio and Off-Ice Coach: Stephan Schmocker and Seppi Neuhauser
and of course my family, without all this would not be possible.
Season 21/22


At the beginning of October my first competition of the season took place. At the Finlandia Trophy in Espoo, 26 world-class skaters from 17 countries took part. For many of them it was the first competition of the Olympic season, so it was for me.
With 65 points, I could only place 15th after the short program.
With a good free skate, which still has a lot of room for improvement, I was able to make up 7 places and move up to 8th place.
Thanks to the 8th place, I can still take important world ranking points with me.

Olympic test competition in Beijing
One week after the Finlandia Trophy, I traveled directly from Helsinki to Beijing, China.
As a test run for the Olympic Winter Games 2022, this year's "Asian Open" took place, where I had my second competition.
Unfortunately, I couldn't show a flawless short program, after I missed my combination. Nevertheless I could place with 69 points on the 6th intermediate rank.
In the free skate, I had to catch up again, because I wanted to be in the top 5 to take important World Ranking points with me.
And I succeeded with the 3rd best free skate. However, the gap after the short program was too big, even if it was close, to make it to the podium.
Nevertheless, with the 5th place, I can take further points and a new season's best with 217 points.

Season 2020/21

After two months of ice practice break due to the Corona crisis, I was finally able to travel to Oberstdorf again and go back on the ice.
In addition to the ice training, I also started the sportmilitary in April, which lasts until August.
With seven weeks of trainingcamps during summer and three more weeks of intensive training, I have prepared myself for the season.
The first competition took place at the end of September, the Nebelhorn Trophy in Oberstdorf.
For the first time I landed a quad jump in a competition!
With a new personal best of over 210 points, I was able to place myself in 8th place despite three falls and I only missed the podium by eight points.
In both programs I got the points I needed to qualify for the World Championships.
There is still a lot of potential in both programs and a few more points to be made.

Season 2019/20

Worldchampionships
Due to the corona crisis, the Worldchampionships in Montreal was canceled. So my season ended earlier than planned.
Seasons Best in Den Hague
Four weeks after the European Championship, I traveled to The Hague for my next competition.
A good field of participants was waiting for me, including Shoma Uno, silver medalist at the Olympic Games in Pyeongchang and 19 other international competitors.
In the short program I showed a strong program and was able to place on the 6th intermediate rank despite a fall.
In the free skate I fought my way up to 4th place with another good program and a seasons best.
With 201.98 points I reached the 200 point mark again.
European Championships
At the European Championships 2020 in January I successfully qualified for the final with my short program and achieved my minimum goal with the 22nd intermediate rank. In the free skate I fought my way up to 19th place and ended as one of the top 20 in Europe.
Swiss Championships
At the beginning of December I again defended the Swiss championship title with 20 points.
Ranking Points
In November I started in the ISU Challenger series in Warsaw.
With a good short program, I finished 8th among 25 international competitors. Unfortunately I was not able to successfully show all my technical difficulties in the free program, but I still fought my way up two places and classified myself in good 6th place. So I secured further points for the world rankings.
6th place in Riga
A week earlier I flew to another competition in Riga. With a good short program, I placed on the 4th intermediate rank and was in good shape for the free program. Unfortunately the free skate did not go as expected and I had to accept some technical mistakes. It was enough for me to finish 6th, but I was only able to partially achieve my goals for this competition.
Season Start with bronze medal
Due to an ankle injury and a subsequent 6-week break from training, I clearly had a training deficit at the start of the season. Nevertheless, I was in relatively good shape and started the first international competition in Zagreb at the end of October. I won the bronze medal right at the beginning of the season.
Media
SH Nachrichten, 24. Januar 2020
Britschgi zeigt soliden Auftritt an der Eiskunstlauf-EM
Saisonbestleistung für den Schaffhauser Eiskunstläufer Lukas Britschgi: In Graz konnte der 21-jährige bei der Europameisterschaft um 12 Plätze verbessern.
Sponsoring
It takes a lot on the way to the top of the world. On the one hand a lot of motivation, perseverance and hard training.
On the other hand, also financial medium.
That's why I depend on you to help me achieve my sporting goals!


Be a part of my Team and celebrate international successes with me!